Union Memory announced today that it has joined the Open Data Center Committee (ODCC) as a Platinum Supplier Member, the Green Computing Consortium (GCC) as a Silver Member, and the NVM Express as an Adopter Member. In the future, Union Memory will actively participate in the formulation of various technical standards and product specifications in storage, data centers, servers, databases and other fields as well as exchanges in this ecosystem, with a view to making greater contribution to the development of the industry.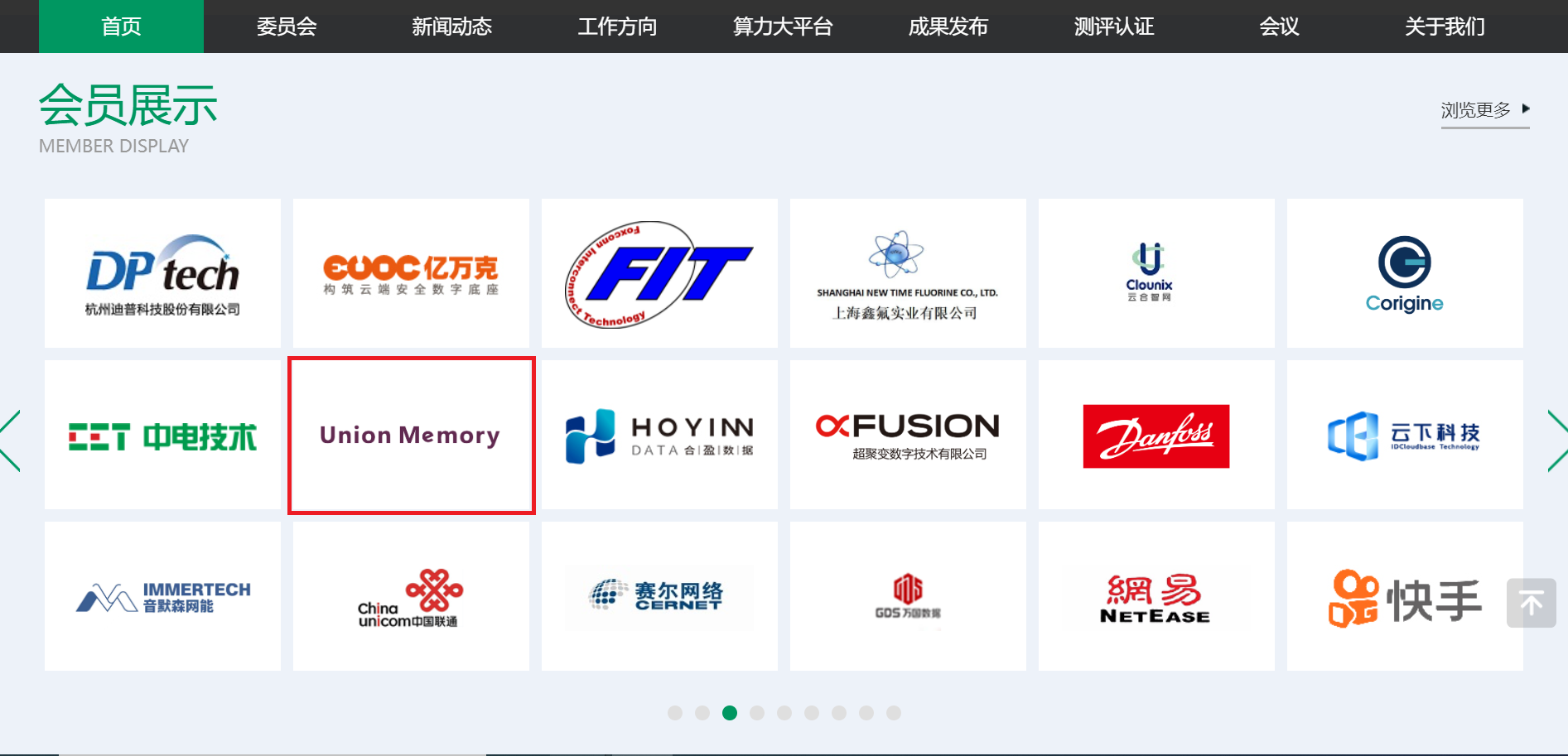 Open Data Center Committee (ODCC)
Open Data Center Committee (ODCC) was co-founded by Tencent, Baidu, Alibaba, China Telecom, China Mobile, China Academy of Information and Communications Technology (CAICT), and Intel, the Consultant of ODCC, with the ambition to build an active, efficient and internationally competitive ecosystem and open platform centering on data centers, servers, networks, test and evaluation, edge computing, intelligent monitoring and management, and many more contents, in order to promote the formation of unified and internationally influential codes and standards in the industry, and facilitate industrial cooperation, technical innovation, promotion and application.
By the end of 2021, ODCC has published a total of more than 150 research findings, including industrial development white paper, specifications of innovative technologies, benchmark testing specifications of key parts, and product prototypes, playing a positive role of leader and promoter in the development of data center industry, has established its leadership in the development of data center industry development in China, and built an internationally well-known industry data center platform.
So far, ODCC has become one of the influential and credible industrial organizations in the field of data centers and servers in China. In addition to above- mentioned co-founding members, its members also include more than 100 famous companies, such as Huawei, Lenovo, JD, Meituan, Kuaishou, IBM, Samsung, Cisco, Toshiba, Seagate, Western Digital, ABB, SK Hynix, AMD, Micron, Xilinx, Asus, Foxconn, Luxshare, ZTE, Inspur, H3C, and Sugon.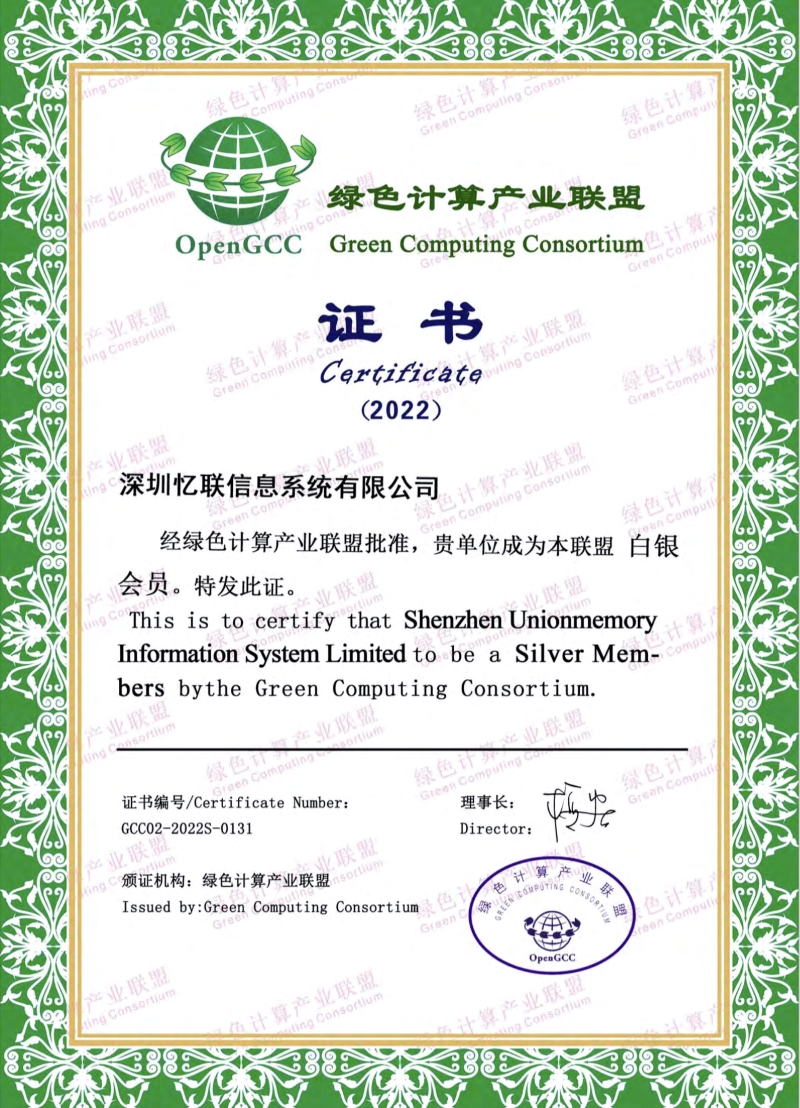 Green Computing Consortium (GCC)
Green Computing Consortium (GCC) was co-founded by 17 famous enterprises and institutions at home and abroad, such as Huawei, ARM, Lenovo, Dell as well as the Institute of Computing Technology of the Chinese Academy of Sciences (hereafter ICT), Peking University, Peking University of Aeronautics and Astronautics (BUAA), and China Electronics Standardization Institute, with a vision to align with the development trend of information technologies supporting open source software and open hardware, pool the superior resources in global industrial chain, and provide green and energy-saving products that are easier to use and manage for end enterprise users based on such open technologies as ARM computing chips. GCC has made great progress in the aspects of standard development, technical research, application and promotion, personnel training, and more.
So far, GCC has 104 members, including manufacturers of chips, devices and software, end users, related research institutes, and higher institutions. Among them, in addition to the aforementioned co-founding members, it also includes NVIDIA, Ampere, Marvell, AMI, Micron, Alibaba, Baidu, Meituan, JD Cloud, Apusic, Neusoft, China Electronics Corporation (CEC), H3C, Powerleader, Changhong, POTEVIO, Tsinghua Tongfang, Wuhan Yangtze Computing Technology, GRG Banking, Xiangjiang Kunpeng, Wuzhou Technology, Phytium, Digital China, Qianxin, and UCloud.

NVM Express
NVM Express is an open standard and information collection that demonstrates the advantages of non-volatile memory in all types of computing environments, from mobile devices to data centers. It is designed to provide high bandwidth and low latency storage access for current and future NVM technologies and is best known as the establisher for NVMe standards.
NVM Express has more than 100 members, including Dell EMC, Google, HP, Intel, Kioxia, Marvell, Meta (the parent company of Facebook), Micron, Microsoft, Cisco, NetApp, Samsung, Seagate and Western Digital as the founding members. In addition, its members also include Apple, IBM, Oracle, ARM, Nvidia, Qualcomm, Broadcom, AMI, Microchip, Synopsys, Realtek, Xilinx, MediaTek, SK Hynix, Toshiba, Huawei, Alibaba, Tencent, Lenovo, Inspur and YMTC.
"We are honored to join ODCC, GCC and NVM Express," said by Cody Wang, Union Memory's CEO. "This will enable Union Memory to participate in the ecological construction of storage, servers, data centers and other industries, playing an important role in our development of storage solutions." We look forward to cooperating with ODCC, GCC and NVM Express to create more value for our partners.