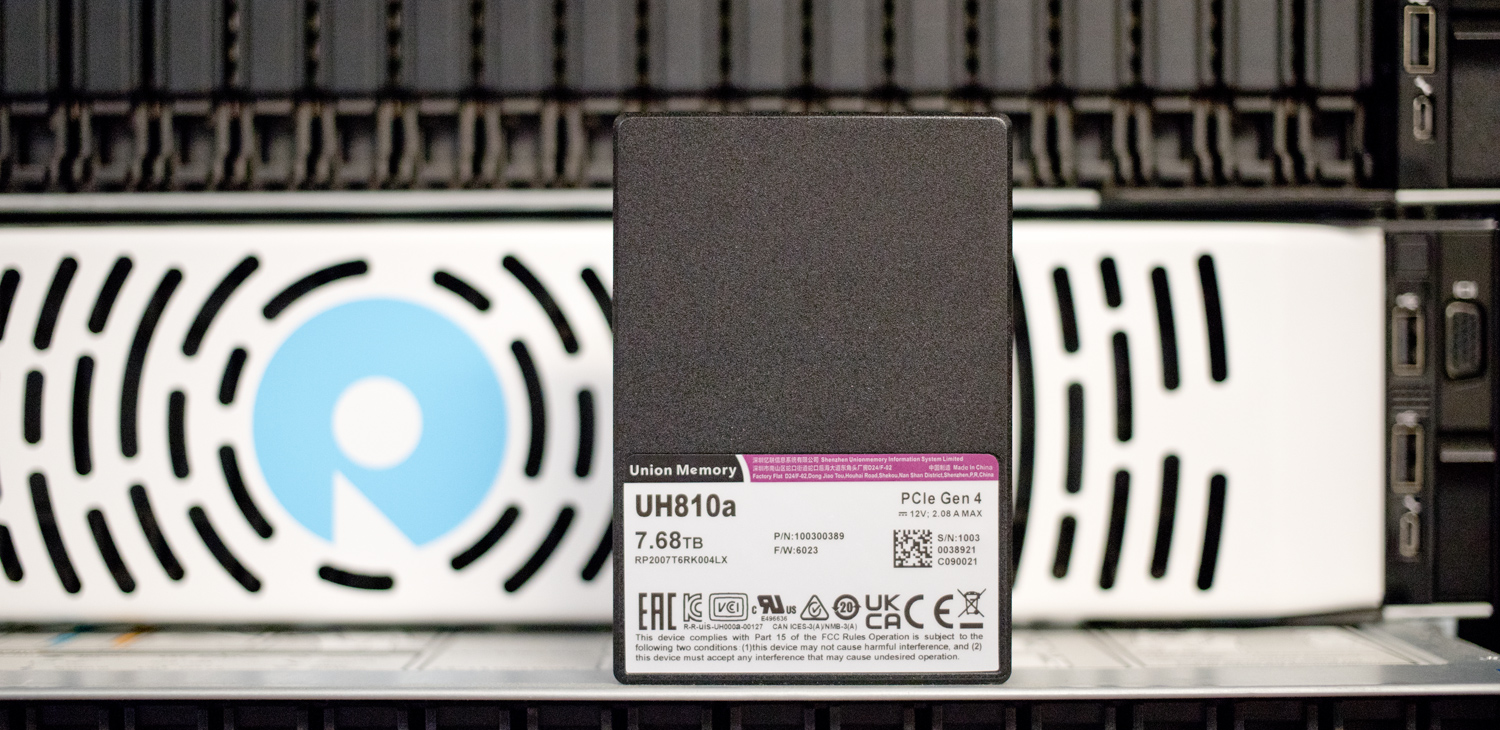 Union Memory's first trip to the StorageReview Labs was an overall successful venture. The UH810a Series features 3D TLC NAND, capacities ranging from 1.92TB to 7.5BTB, an in-house controller, and a range of handy enterprise-grade features like flash-aware RAID, end-to-end data path protection, advanced ECC, secure erase and power-loss protection. Users can also perform an online firmware update without having to power cycle the drive.

While Union Memory describes the UH810a as a read-intensive solution (which certainly proved to be true), it also had impressive write performance in most of our tests.

That said, we tested the UH810a against five other PCIe Gen4 enterprise 7.68TB SSDs with similar specifications and applications: the Samsung PM9A3, Memblaze PBlaze6 6920, Intel P5510, Micron 7400 Pro and, most recently, KIOXIA CD6. We looked at both application workload analysis and VDBench workloads during our analysis.

In our Sysbench tests, the UH810a performed very well with aggregate scores of 10,322 TPS, 12.40ms in average latency, and 22.50ms in a worst-case scenario. Results told a similar story during our SQL Server transactional benchmark, posting 12,650.3 TPS and an average latency of 2.83ms for third place in both categories.

Switching over to VDBench, the UH810a continued to show solid results, in both reads and writes. Highlights include 1.49 million IOPS read and 620K IOPS write in our 4k workloads (both results setting new bars in performance), while hitting 6GB/s in 64K read, 2.5GB/s in 64K write, 2.85GB/s read in 16K read, 2.45GB/s in 16K write during our sequential workloads. Our mixed 70/30 profiles recorded 535K IOPS in 4K, 350K IOPS in 8K, and 192K IOPS in 16K.

In our SQL testing, the UH810a saw peaks of 249K IOPS, 245K IOPS in SQL 90-10, and 246K IOPS in SQL 80-20, falling behind the pack throughout. Oracle workloads told a similar story, recording 247K IOPS, 185K IOPS in Oracle 90-10, and 188K IOPS in Oracle 80-20.

Next up were our VDI Clone tests, Full and Linked. In Full Clone, we saw 208K IOPS in boot, 119K IOPS in Initial Login, and 97K IOPS in Monday Login. In Linked Clone, the UH810a showed a peak of 90K IOPS in boot, 53K IOPS in Initial Login, and 75K IOPS in Monday Login; all of which were right near the top of the leaderboard.

Overall, Union Memory's UH810a was an impressive showing, keeping pace with (and sometimes even surpassing) the more well-known brands. This was specifically evident in its 4K read and write performance, where it took first place among all tested drives. We would certainly like to see more of their storage solutions in our lab to see what they can do.

Learn more: https://www.storagereview.com/review/union-memory-uh810a-pcie-gen4-ssd-review